BigBlueButton is an open source web conferencing system for online learning.
We believe every student with a web browser should have access to a high-quality online learning experience.
We've written this documentation for administrators and developers who want to setup and customize their own BigBlueButton server. If you are an end-user (instructor or teacher) interested in learning more about BigBlueButton (and how it works) visit bigbluebutton.org.
The source code for BigBlueButton is hosted on GitHub.
Getting started
BigBlueButton enables real-time sharing of audio, video, slides (with whiteboard), polling, emote icons (including raise hand), chat, and the presenter's desktop. It is localized into over 35 languages and supports JAWS screen reader for students with visual disabilities.
Users join a BigBlueButton session as one of two roles: viewer or moderator. A viewer (typically the student) can chat, display an emote icon, send/receive audio and video, and respond to polls. A moderator (typically the instructor) can – in addition to all the capabilities of a viewer – mute/unmute other viewers, lock down viewers, or make anyone (including themselves) the presenter. The current presenter can can upload slides, annotate them (using the whiteboard controls), and share his or her desktop for all to see.
If you are new to BigBlueButton we recommend (in order):
Next, depending on whether you are a developer or administrator, we recommend:
Install BigBlueButton your own server (Ubuntu 16.04 64-bit).
Setup the GreenLight front end, or use an existing integration (such as Moodle or WordPress).
Read the FAQ.
If you are a developer, we recommend
Setup a development environment to modify and extend BigBlueButton for your needs.
Integrate BigBlueButton with your applicaiton using the BigBlueButton API.
The BigBlueButton project began in 2008. The project is managed by a core group of committers that are very determined to see this project meet is goals. If you like BigBlueButton, help us by spreading the word (blog, tweet, upload a video to YouTube, etc.) about the project. And definitely join one of the mailing lists – you'll an active and a global community supporting BigBlueButton for the entrepreneurial opportunities and social benefits of providing supported and tested platform for online learning.
Latest versions
The latest release is BigBlueButton 1.1. See overview, install, and architecture for more details.
The latest version is BigBlueButton 2.0-beta which improves collaboration with students through multi-user whiteboard and shared notes. See overview and install steps. Click the image below for a video overview of 2.0-beta.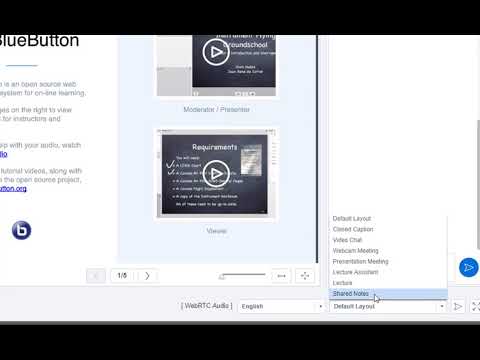 Enjoy!
---
YourKit is kindly supporting open source projects with its full-featured Java Profiler. YourKit, LLC is the creator of innovative and intelligent tools for profiling Java and .NET applications. Take a look at YourKit's leading software products: YourKit Java Profiler and YourKit .NET Profiler.